Welcome to Trinity School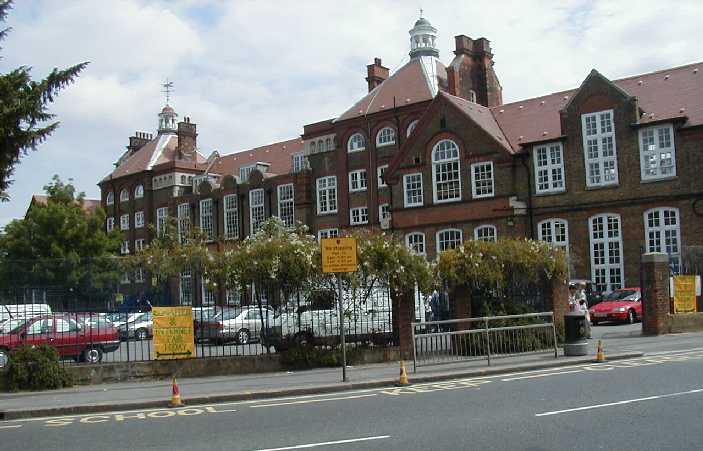 Message from the interim website contact - click to read
This website aims to collect and make available as much information as possible about the former Trinity Grammar School, and its old scholars activities. The school had earlier been called Trinity County School (of grammar school status) since 1924 in Wood Green, North London.
The title Trinity Grammar School followed in 1945 after the 1944 Education Act. The plan is to operate at until at least 2024, the centenary of the first use of the name of Trinity, and also make provision to archive all collected information to Haringey Archives when the website shuts down, probably by 2030, unless demand continues.
The school had its origins in a higher elementary school building in Bounds Green Road built in 1898-1899 just north of the centre of Wood Green. By 1924 it had been made into a County School by Middlesex County Council, and continued with a grammar school title until July 1962. Then the school combined with nearby Glendale Grammar School to be Wood Green Grammar School, and some reports are that it moved to the new White Hart Lane site later in 1962.
In 1967 the school became Wood Green Comprehensive School and continued at its former playing field site in White Hart Lane. The last name found in use was Woodside School, an academy school. The 1899 Bounds Green Road building remains as a listed building, and became Nightingale Primary School, and returned to the name of Trinity, as Trinity Primary Academy in 2012. The name of Trinity originally derived from the nearby Trinity Church in Trinity Road, which borders the rear of the school.
Our aim is to load this website with much of the historical information about Trinity, plus past and current activities by old scholars, as was on the former Old Scholars website. Although much information has been lost, about 300 school photos with the original captions will be added over time and the total could reach 500 in the Galleries section, mostly class and reunion photos. Another aim is to acquire lost resources like the Old Scholars Association Newsletters since 1994. Donations and loans of all materials can be made via the Contacts page.
Page last modified: 16 Aug 2020 13:16:56